The Best Affordable Boho Beds & Headboards (Rattan and Wood)
I was not paid to write this post, however, it may contain affiliate links. If you make a purchase through one of my links, I may make a small profit at no expense to you. For further information, please view my policies.
Okay. So you're looking for a bohemian style bed to create your dream boho bedroom.
If you know what you like, but it takes too long to shop around, then you'll love this post. My hope is that it's going to save you time and money!
Watch the video instead!
---
If you've read my post about how to create a boho bedroom, you will already have learned a little about what makes a great bohemian bed frame.
Although it's not a rule, low-profile beds, such as platform beds, are an excellent option if you are looking to infuse your bedroom with cozy boho vibes. Being lower to the ground creates a more inviting feeling than a very high-up mattress.
Daybeds are also wonderful for boho interiors, whether you're doing a child's or teen's bedroom, or you're creating a cozy nook somewhere else in your home. Don't forget about daybeds! There will be a couple of my favorite bohemian daybeds featured below as well. 🙂
You'll find modern boho beds come in a variety of different styles and price ranges. For a truly bohemian bed, the most popular materials are definitely rattan and wood, and often you'll see wicker and cane weaves used too.
Beds and headboards that incorporate metal and leather can be used as well. The warmth and pleasing texture of leather can work really well in a bohemian-style bedroom.
Let's get right into this!
Rattan & Cane Beds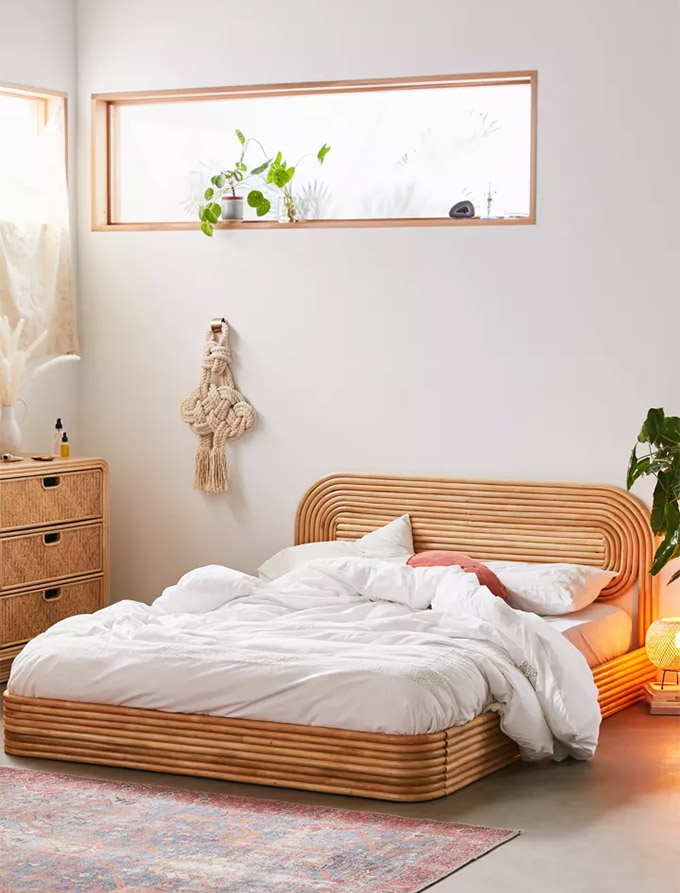 You will often see rattan molded into organic, sinuous shapes. Rattan wood is reaaaally popular right now and will provide phenomenal textural interest to your bedroom. Beds made out of rattan are a beautiful base for your chic boho bedding to shine on (read more about boho bedding here).
The Ria Rattan bed frame from Urban Outfitters is probably one of my favorite boho beds on this whole list – it's just beautiful and so unique!
Rattan & Cane Headboards
If you go for the rattan headboard on its own, things can become really interesting. Because you're not doing a whole bedframe, you can afford to go pretty elaborate with the design of the headboard without the effect becoming overwhelming.
Not only that, but usually buying just a headboard can be more affordable than buying an entire bed (but not always).
Check out these gorgeous cane & rattan boho beds and headboards!
---
Wooden Boho Beds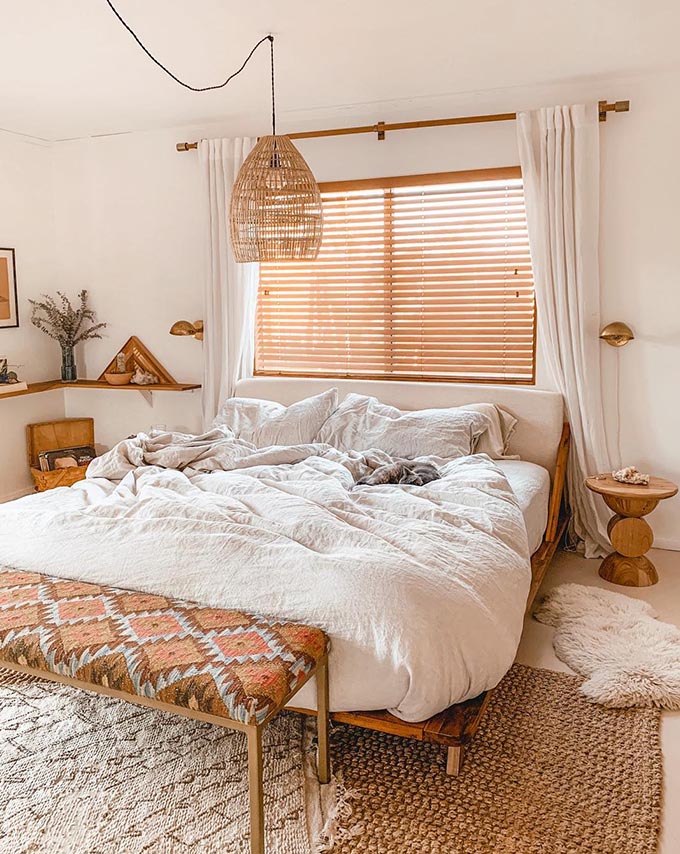 Solid wood beds are a lovely addition to most bedrooms, but in a boho bedroom they truly fit right in. Mainly because of the warmth that wood provides.
You can go for an intricately carved headboard paired with a simple wood platform bed, turned legs on a low profile platform bed, regular good old pallets, or anything in between.
Personally, my favorite below is the Wood Spindle bed (it's the first one in the gallery). Several retailers carry this same bed, and Walmart currently has the best price. But if Walmart sells out, Amazon, World Market, Target and Allmodern also carry it at varying price points. If you are looking for this spindle bed in colors other than walnut, it's worth mentioning that Target and Allmodern carry more finishes than everyone else of this bed (they carry caramel, walnut, light oak, white, and black).
Wood Headboards
If you are going with just a simple wooden headboard, you can get a little creative.
Instead of buying an actual headboard with legs, you could just use carved decorative wooden panels and hang them up behind your bed. It could be one large panel, or a group of 2 or more, depending on the dimensions.
Of course the wood panel doesn't have to be carved – it could also just be a panel of regular wooden planks.
---
Wicker Boho Beds and Headboards
When we talk about wicker beds and headboards, we're not referring to painted white wicker that you might have seen in Granny's garden:
By all means, if painted wicker is your thing, then go for it! But to date, I have not found many painted wicker pieces that I love.
To get that warm and cozy boho look, the wicker you place in your bedroom should ideally be in a natural wood shade, which is usually a pale, neutral earthy color.
Natural wicker beds will help create that tropical boho vibe, as wicker furniture is often seen used in hot countries (and not just on patios).🙂
The same comments apply for wicker headboards. I would recommend staying with neutral-toned wicker headboards with soft curves for the perfect boho bed look.
The lovely variegated hues of woven wood will create some really beautiful depth in your space!
---
Leather headboards
There aren't a ton of affordable leather headboards, but I do have a favorite which is available at Target for a very reasonable price. Do keep in mind that it's faux leather, which helps keep the price down!
And here is what it looks like styled (by Target). The room's a little sterile with that creepy lifeless catalogue feeling (actually I think some parts of the image are 3D) but you get the idea:
---
If you want to splurge a little on real leather (and support an independent maker😍), then I recommend checking out the headboard (pictured below) from iheartnorwegianwood on Etsy.
Genuine leather is wrapped around some foam and the piece is meant to be hung on the wall above the bed via two leather straps. You can't choose the color of the headboard leather itself (the seller offers a color called "Honey"), but you can choose what color straps and hardware you want. I've featured my favorite below, which is the natural/gold combo.
Or, you could go for this faux leather hanging headboard – very similar to what I just showed you above! It's a more affordable option.
I hope you found your dream boho bed! If you need more tips on creating a bohemian home, then be sure to check out these super useful posts:
How to create the perfect bohemian bedroom
11 tips on how to pull off the boho look in your home
If you are looking to DIY your bed frame instead of buying one, then make sure you check out this post !!