Sherwin Williams Tricorn Black: Should You Pick This Paint?
I was not paid to write this post, however, it may contain affiliate links. If you make a purchase through one of my links, I may make a small profit at no expense to you. For further information, please view my policies.
Tricorn Black is one of THE most popular black paint colors used in home design, and a favorite choice among top interior designers and design influencers alike. Read on to find out whether this bold color is for you!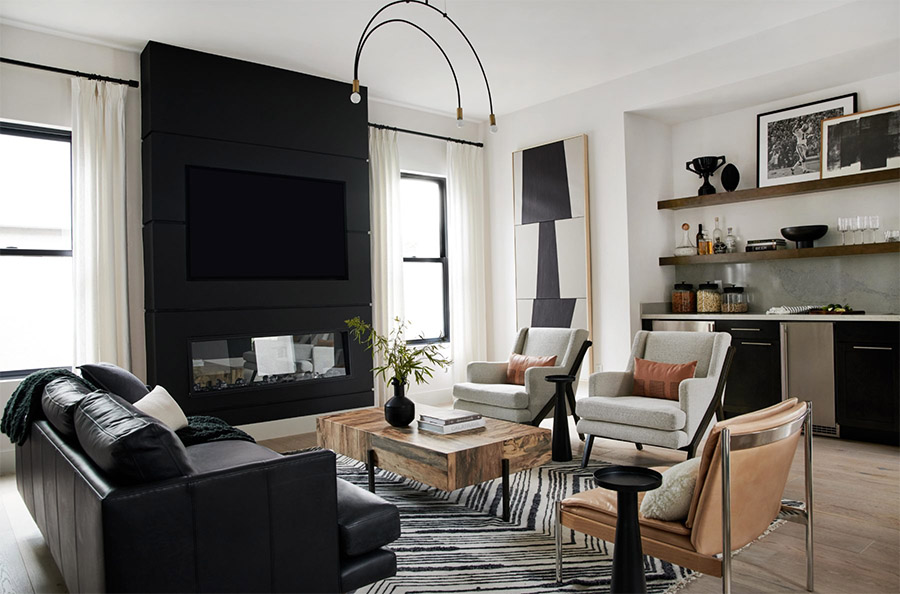 Sherwin Williams Tricorn Black SW 6258
Using a color such as Tricorn Black by Sherwin Williams will make a bold statement in your home design. It can be easy to feel intimated when considering such a bold color choice. However, having a black accent area included in either the interior or exterior design of your home can give your home a dramatic, and very classy look!
I bet you are wondering if adding this bold color to your space is the right choice for you. I am going to answer some common questions asked about TB. Maybe you are wondering which black paint color to choose or if black is the way to go, altogether. This article will help you decide if you are ready to add this bold and classy color choice to your home.
This chic color is often seen adding drama to architectural features on the exterior of a home or adding warmth and depth to a space on the inside. This color can be timeless and beautiful.
Is Tricorn Black A True Black?
Yes, Tricorn Black is very much a true black! Tricorn Black has no undertones and it is neither warm nor cool. Its RGB values are 47, 47, and 48. The red, green, and blue values are basically all the same. This is what makes it a balanced and pure color. The light in a room doesn't make an impact on the color, and you won't see it looking a different color based on its surroundings, as you would with a very warm or cool color.
Tricorn Black is one of the three Sherwin Williams true black paints. I talk about and compare all three of them later on, but here is a paint strip that shows all three of them: Tricorn Black, Caviar and Black Magic:
What's the Light Reflectance Value of Tricorn Black?
LRVs range from 0-100, 100 being pure white and 0 being pure black. Sherwin Williams Tricorn Black has an LVR (light reflectance value) of 3.
If you're not familiar with the light reflectance value, just remember that the higher the number, the more light the color reflects. So LRV 3 means that this paint only reflects 3% of the light that shines on it! Not a lot!
Tricorn Black has a REALLY low LVR. You will want to take this into consideration when deciding where you are going to be adding this paint color to your home. If you aren't careful, it can easily make a space feel dark and cramped. However, if used appropriately, it can really add to the sophistication of a home. In fact, if placed in the right area, Tricorn Black can actually make a space look bigger.
If you paint an accent wall with this color it can really draw you into the room, while also making it feel like the accent wall has been pushed back. This will give the room a comfortable and inviting feel.
What Are The Undertones In Tricorn Black?
Tricorn Black has no undertones. That means that it does not ever look like another color. It looks black no matter what environment it's in. This is one of the main reasons that Tricorn Black is so popular: it's a NEUTRAL black paint. That makes this paint color a safe option if you are new to the idea of adding black to your home's color palette as you won't ever run the risk of it clashing with any other nearby colors.
Tricorn Black's lack of undertones makes it a very versatile color choice. You can virtually pair it with just about anything else. It looks fantastic paired with anything from stark white to blue tints or beige. It would go great paired with Benjamin Moore's Simply White.
Is Sherwin Williams Tricorn Black Warm Or Cool?
As mentioned above, Tricorn Black is not a warm or cool color. This makes it very versatile, and it can be used in virtually any setting. Just be aware of how dark it can make a space.
If you don't want to paint your whole room in TB, it can be a great idea to paint one wall Tricorn Black or even an accent piece, such as the staircase. Using it as an accent and pairing it with a color that is its opposite, can warm up a space and give it a cozy vibe or add contrast and dimension.
Does Tricorn Black Look Blue?
Sometimes black paints can look blue, but with everything I've mentioned, we can conclude that your Tricorn Black would never look blue or any other color for that matter. Of course some photos can be deceiving so it's never a good idea to judge a paint color from a photograph – always best to sample it in your own space. It is a very balanced and pure black. It's almost as black as you can get. It's not the blackest paint on the market, but it's pretty close.
What Trim Color Looks Best With Tricorn Black?
It depends what look you're going for. Tricorn Black makes a great trim color itself. as you can see in the photo below!
Right now it's very popular in the design world to have matching trim and wall color, with the only variation being in the paint sheen. For example eggshell finish on the walls and semi gloss finish on the trim, in the same color. So if you paint your room in Tricorn black, you could absolutely also use Tricorn Black on your trim – that would create a very striking, monochromatic effect.
But if that's not the look you're after, then any shade of white trim color would look amazing with Tricorn Black. Specifically, Tricorn Black would pair well with Sherwin Williams Pure White as the trim color. These are beautifully contrasting colors and will help keep the space looking bright. It also pairs well with Snowbound by Sherwin Williams.
I would stay clear of pairing warm gray and beige tones such as Benjamin More Revere Pewter. While a great color choice and popular option for walls and large spaces, it's not a good choice for trim against a black wall.
Where to Use Sherwin Williams Tricorn Black in Homes?
Below we'll take a look at all the most popular rooms and areas of the home where you could consider using Tricorn black. I'll share some inspiring pics as well – be sure to click on the links to go visit the designers that I featured!
Beyond using TB as wall paint, you could also use it anywhere you want to add a black accent in your home:
furniture
cabinetry
doors
window frames
just the ceiling
wood slat feature walls (see below!)
Above: Tricorn Black used on a huge 26 ft tall wood slat accent wall! Via @suitandsawdust
Tricorn Black On exteriors
Tricorn black makes a beautiful color for exteriors. Using black to paint exterior trim, doors, windows and other exterior accent pieces like the shutters is very trendy at the moment, while also being timeless. It can give your home a modern look, while still maintaining a classic feel. It's no wonder everyone is obsessed with painting everything black right now!
Tricorn Black is also a very popular color for front doors. It makes a great accent color and can add a touch of sophistication to any home, no matter what your home's style is – traditional or modern!
Some people paint their entire home's exterior in this paint color and it looks absolutely stunning!
Tricorn Black in kitchens
Tricorn Black can look beautiful in kitchens, and is most often used on kitchen cabinets and islands. Playing with contrast is always a good idea in design and Tricorn black works perfectly if you're looking to create bold and dramatic contrasts in your kitchen.
Below are some photos demonstrating some gorgeous Tricorn black kitchen paint ideas such as:
tricorn black cabinets paired with black backsplash tiles (try subway or zellige tiles!)
black cabinetry paired with white walls and white tiles
black cabinets paired with black countertops and fun black and white tiles
tricorn black cabinetry paired with marble
painting just the island base in black
If your stainless steel appliances aren't integrated and hidden away, don't worry: stainless steel looks great next to Tricorn Black.
Virtually all types of kitchen hardware pair well with Tricorn black (ie cabinet and drawer pulls, and faucets). I have a soft spot for unlacquered brass, but you can use anything you like and it will look amazing.
Tricorn Black in bedrooms
Tricorn black can look beautiful in bedrooms as well. Many people use it as an accent wall color, but I prefer when people go all in and do the whole room!
Tricorn Black in bathrooms
Here are some photos of beautiful bathrooms painted in Tricorn black – I would love a small powder room painted in tricorn black, wouldn't you? Black paint actually manages to make small powder rooms look a lot bigger than if they were painted white.
Tricorn Black versus Black Magic
Sherwin Williams Black Magic is another popular black paint color. Along with Tricorn Black and Caviar, Black Magic is one of the three Sherwin Williams true black paints.
So what's the difference between Tricorn Black and Black Magic?
Even though both colors have a LRV of 3, Black Magic looks ever so slightly "less black" than Tricorn. So if you want a true deep black, get Tricorn Black. If you want just a little relief from that darkness, choose Black Magic. Black Magic also does not have any cool or warm undertones.
Tricorn Black versus Caviar
Sherwin Williams Caviar is another popular black paint color. Along with Tricorn Black and Black Magic, it's one of the three Sherwin Williams true black paints.
So what's the difference between Tricorn Black and Caviar?
Black Magic is a touch lighter than Tricorn Black, and Caviar is a touch lighter than Black Magic. So even though Caviar also has a LRV of 3, it's still (almost imperceptibly) lighter than both Black Magic and Tricorn Black. Are we splitting hairs here? Maybe! But if you want the lightest of the three true black SW paint colors, then Caviar is your choice.
Caviar also has a teeny bit of a brown undertone, which shifts the color warmer.
Tricorn Black versus Iron Ore
Sherwin Williams Iron Ore is another popular black paint color. So what's the difference between Tricorn Black and Iron Ore?
With a LRV of 6, Iron Ore is a bit lighter than Tricorn Black. It comes across as a very dark, smoky gray. It's like a rich charcoal and doesn't really lean warm or cool. If you want a dark rich charcoal paint that leans a bit more gray than black, go for Iron Ore rather than Tricorn Black.
Some Final Things To Note
One thing that you can get with using such a deep black paint is visible dust. If there is light shining on the wall, you will easily be able to notice when it is dusty. You may want to keep that in mind when deciding where you are going to place this color in your home.
Lastly, if you are still on the fence about Tricorn Black, let me ask you this: do you have an open concept home? If so, open concept homes are perfect for adding a Tricorn Black accent wall. If you are needing to break-up and define your space, painting a wall Tricorn Black can be perfect for this. For example, if you have an open floor plan, but really want to define your dining room, painting the back wall of your dining room with Tricorn Black will define the space perfectly.
Let me know in the comments if you're considering Tricorn Black and where you're planning on using it – I'd love to know!
Other in depth Paint Guides you might enjoy: