The Ultimate Guide To Modern Farmhouse Decor
I was not paid to write this post, however, it may contain affiliate links. If you make a purchase through one of my links, I may make a small profit at no expense to you. For further information, please view my policies.
Exceptionally charismatic, warm and cozy, yet at the same time also sleek and refined, there is no denying that modern farmhouse is a highly coveted and very popular interior design style.
Whenever people hear the word farmhouse, there are several images that typically come to mind like barns, stables, and cornfields. As for me, I sometimes think about vineyards and delicious pies too. 🥧 yum
When it comes to "modern" interiors, on the other hand, people often associate it with something new and fancy.
But what happens if we combine modern decor with traditional farmhouse style? Well, the result is an exciting design with the perfect balance between an astounding contemporary flair and the comfort of country living.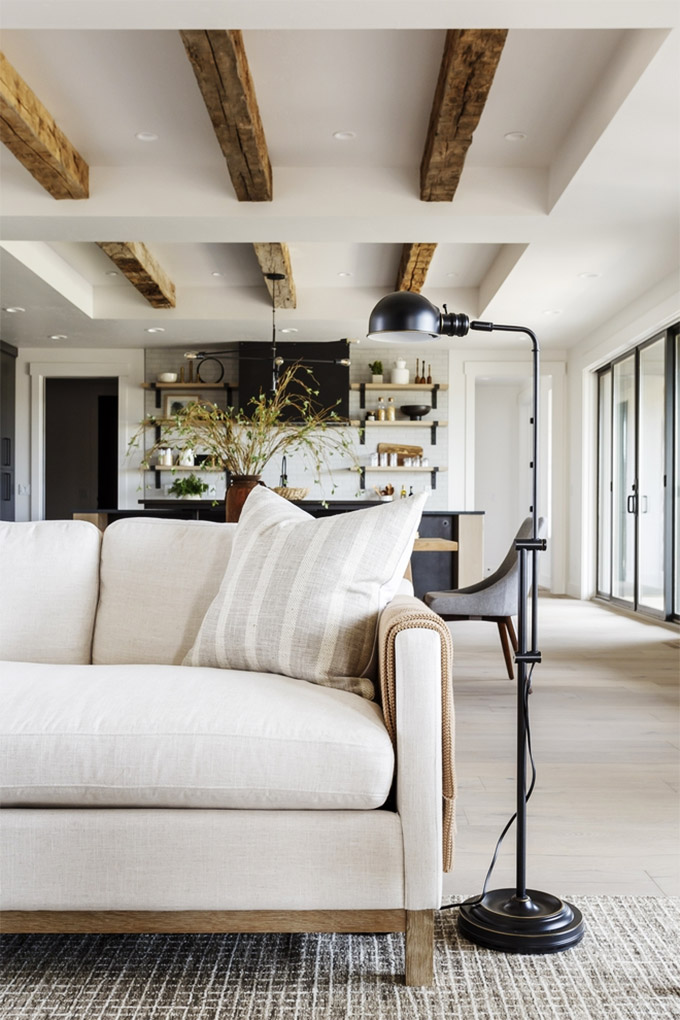 So, if you're looking to add some classical and modern character to your home decor, then modern farmhouse style might be right for you.
This article will be packed with modern farmhouse decor ideas, and will present you with everything you need to know to create the ideal environment in your home,
What is Modern Farmhouse Style?
Modern farmhouse style involves the inviting elements of a contemporary home peppered with the undeniable charm of a rustic country style. To illustrate it clearly, here is what modern farmhouse style looks and feels like.
Rustic and contemporary combined
Modern farmhouse decor emphasizes the perfect blend of the elements you'll find in farmhouses with the contemporary ones. Stones in light shades and wood combined with materials like stainless steel, sleek lighting, and sturdy marble or granite countertops, create a natural yet sophisticated vibe.
Woodwork and clean lines
Modern farmhouse home decor also brings together the cozy farmhouse aesthetics, and the smooth feel and clean lines of contemporary style. To create that farmhouse feel, natural-looking woodwork plays a vital role. Then, it is mixed with strong vertical and horizontal lines in decor designs and furniture.
Lots of open space
Bare windows and high ceilings with fantastic lighting can compliment the overall look of the modern farmhouse style. Lots of large open spaces allow for stunning views and flow of light. Even if your home's location doesn't offer spectacular scenery, oversized openings still wonderfully break down barriers between outdoor and indoor spaces.
Now, what does it mean to live in a modern farmhouse? It is like you're in a high-end living space but still close to nature. Natural, comfortable, and relaxed with a bit of elegance and glamour – this is what modern farmhouse style has to offer.
What is the Difference Between Traditional Farmhouse and Modern Farmhouse?
When you search for farmhouse decor, you'll most likely come across both traditional and modern styles. Traditional farmhouses are popular due to their cozy and welcoming vibe. But modern farmhouses have transformed some of the styles of old farmhouses into something trendier and a little more refined.
Traditional farmhouses are known for their functionality, practicality, and simplicity. They are built with plenty of outdoor space perfect for gatherings and parties. They often feature apron sinks and affordable furnishing. Wood is its main element with light-colored exteriors. They are typically located in suburban or rural areas and have a simple square or rectangular floor plans.
On the other hand, modern farmhouses involve a delicate combination of style and comfort. Although they possess a lot of elements similar to the traditional ones, they give off a different vibe. While they still have a lot of wooden interior and exterior elements, they also feature smooth lined countertops, stainless steel appliances and stream-lined contemporary furniture.
Modern farmhouse is essentially a contemporary twist on traditional farmhouse. It takes the clean lines of modern design and then accentuates it with pastoral finishes, making it homey and just a teeny bit rustic.
The Architecture of Modern Farmhouse
The actual architecture of modern farmhouse is an incredibly integral part of the style. So, how can you incorporate modern farmhouse architectural details into your own home decor?
Let's take a closer look at some unique elements that can make your home into a modern farmhouse.
Shiplap
The use of painted shiplap walls has been an ongoing trend so don't be afraid to embrace it!
Shiplap walls look great pretty much anywhere in the home, but they'll really shine in the heart of your home – the kitchen! This will certainly create a charming country kitchen that is delightful to use.
Of course shiplap is also brilliant to incorporate as an accent wall (for example around a fireplace or behind a TV), or great for a smaller space like a powder room or guest bath.
Fun fact! Shiplap was originally used on the sides of ships. Some even say that it was a common shipbuilding material during the Viking age. It eventually found its way indoors, when people started using it inside their houses to create ceiling features, fireplace surrounds, headboards, and accent walls.
Board & Batten
Currently, dimensional finishing treatment is increasing in popularity for both indoor and outdoor applications. Board and batten commonly appear in bedrooms, dining areas, and hallways within the home. This adds beauty to otherwise boring expanses of plaster or drywall.
If you want to create a farmhouse look from the outside of your modern home, using board and batten as an exterior cladding can reveal a pastoral quality to your property.
You can dare to be different and paint the board and batten with your favorite color and make it a focal point in your bedroom. A board and batten accent wall will definitely add a distinctive rustic yet modern element to your room.
More history! A wooden batten is put on top of a seam between wide boards to create a more energy-efficient and sturdier siding. Since it's easy to assemble and inexpensive, board and batten were popular for structures such as garden sheds and barns. In fact, a board and batten siding is also called barn-siding because a lot of barns in North America are built this way.
Exposed Beams
We have seen them in French kitchens and barn ceilings. If you're looking to add a hint of rusticity and a LOT of character to your living space, then adding exposed beams to your home is a fantastic idea.
There is no denying that exposed beams are an exciting architectural feature that will add an impressive flair to your space. Not only that, but it can also highlight a large area, make your room cozier, and help showcase fancy focal pieces like gorgeous chandeliers.
For a simple yet elegant interior design idea, try a "house-shaped" decor and frame your room with exposed beams to create a house-within-a-house theme.
A-frame Roofs
Speaking of frames, an A-frame roof provides a distinct look ideal for anyone who wants to achieve a modern farmhouse style without much effort. With its simple yet visually interesting design, an A-frame home makes an amazing first impression.
Even if your house is located in an urban area – if it features an A-frame roof – it will always take your mind back to nature. With its peak replicating the mountain summits and the refreshing pine trees, you'll feel right at home with nature in your modern farmhouse while enjoying the innovative elements offered by a contemporary home.
Wide Plank Floors
This is probably one of the most obvious features of a farmhouse. Wide planks provide a feeling that your flooring just came from an old barn.
You can leave them wood toned, or you can paint them. Then, if you need to introduce some softness and texture back into your room, try adding a rug into your space.
As a bonus, wood is easy to clean and is durable. It can be stripped down, sanded and refinished if need be, and it adds a natural look to your home.
Mixed Metals
Mixing metals can be an exciting experiment. Make sure that your design is not completely random, though, it should instead look deliberate!
When considering mixed metals for your modern farmhouse, always aim for balance while embracing contrast. Use your space wisely, and no matter how many finishes you love, limit yourself to 2-3 metals mixed in every finish.
Spread the metals around to achieve some sort of intricate harmony. There should be a good balance as there might be too much of one color that's clumped together.
Brass hardware can brighten a room, and it matches perfectly with matte black and stainless steel appliances. If you have reclaimed wood beams, this will create that stunning modern farmhouse decor you want to achieve.
Modern Farmhouse Lighting Fixtures
Getting the lighting fixtures right is critically important with pretty much all interior design styles, and modern farmhouse is no exception.
Achieving the modern farmhouse style is all about keeping everything organic and simple. You want it to be unfinished and a bit rough, while also maintaining the clean components of today's modern style. Easy, right? Lol.
Industrial-style lights are commonly used as outdoor features, but there is no reason why they can't be allowed in your living space. Place them in your kitchen or living room and they will make an incredible statement.
Besides lighting fixtures with an industrial edge to them, other popular types of modern farmhouse lighting fixtures are oversized "lantern" shaped pendants, woven pendants, and contemporary takes on wagon wheel chandeliers.
Modern farmhouses feature a perfect contrast of light and dark. So, have that minimalist chandelier with exposed bulbs hanging above the staircase. You can also lure your guests to your charming dining table with a weathered iron chandelier for a slightly more vintage look.
Don't be afraid to go oversized with your lighting fixtures!
Also, sconces are a great option for late-night reading sessions. Instead of your typical table lamp, position it above your nightstand on the side of your bed.
It's not a rule, but generally you will find that most modern farmhouse lighting fixtures are dark, usually finished in matte black (unless they're woven). The other trending option at the moment is gold.
If you're looking for lighting fixtures and you're feeling a little lost or overwhelmed, start with narrowing down your options to just black and see if you find anything you like.
Modern Farmhouse Furniture
The best modern farmhouse rooms are often put together simply by selecting the right furniture. The thing is, there are numerous types of modern farmhouse furniture available today, thus making the selection process daunting.
So instead of naming all of the pieces I can find, let me just briefly discuss a few furniture types and their characteristics that captured my attention.
Upholstery with clean lines
One of the keys to putting the "modern" into your farmhouse, is making sure to balance out anything too vintage or rustic with an abundance of clean lines and neutral tones.
An excellent way to do this is by keeping the lines of your larger upholstered pieces (like your sofa, armchairs, bed) modern, and using soft neutral tones like white, off-white, taupe and beige.
Wooden table and chairs
Often made of reclaimed timber, wood tables and chairs will bring out the natural yet sophisticated look of your home's interior.
But don't stop there – try pairing a classic farmhouse table with modern dining chairs and see how that looks – you might be surprised 🙂
Bedroom furniture pieces
In modern farmhouse bedrooms, the beds often have fabric headboards in off-white or other delicate neutral hues. To keep things sleek, avoid overly tufted headboards (lots of tufting is better for traditional farmhouse).
Another popular type of modern farmhouse bed is the traditional black iron bed frame (example pictured above!).
Be sure to soften any hard lines with beautiful neutral bed linens and elegant curtains.
You can add one, max two vintage or distressed elements into the bedroom, but keep it minimal! A weathered bench or antique dresser might be all it takes to introduce the farmhouse vibe into the bedroom while still keeping things polished and refined.
Modern farmhouse kitchens
If it's your kitchen you're looking to update, start with the lighting fixtures (much more on that above!).
Stick with clean, marble countertops and slick kitchen fixtures and stainless steel appliances. Mix your metals if you want to. Apron sinks are a classic, so install one of those if you can.
Cabinetry should not be ornate, but rather clean and pared back – leave all the moldings and trim to traditional farmhouse style. Keep it streamlined!
Pristine, all-white kitchens are always a winner in my opinion, but you can push the boundaries by experimenting with dark cabinets on the lower half of the kitchen, or perhaps by just painting your island with a contrasting color.
You can use modern floor tiles – for example clean white hexagonal tiles look great. And white subway tiles typically lend themselves well to a farmhouse kitchen back splash.
Then carefully introduce rustic accents with some wooden stools or furniture. Also see if you can add in any of the wood architectural details into the room itself the we talked about before.
For lots of tips on how to create a farmhouse kitchen, be sure to check out this post!
Neutral Palette
There are several factors that make up modern farmhouse style and color is one of them. Just like with Scandinavian design's simplicity when it comes to interior decor, it's always best to focus on a neutral palette when trying to achieve the modern farmhouse design.
Avoid the use of bold, overly saturated colors so your home appears open and looks fresh.
White, greige, taupe and cream balance the natural wood elements. Of course, the perfect contrast of black and white can also do wonders in your interior.
Here is a handy chart I made showing all the best modern farmhouse paint colors!
Natural Materials
Modern farmhouse style loves contrasting materials and is a lot about bringing the outdoors into your living space (another similarity with Scandinavian interiors!). Therefore, I love to stick to natural elements as much as possible.
Namely:
linen
cotton
jute
natural wood
weathered, salvaged wood
stone
wrought iron
leather
faux fur
Handcrafted items and organic materials have room in your modern farmhouse too!
Mix Rustic With Refined
Warm wood furniture pieces, flooring, and paneling are all staples of a rustic modern farmhouse style. But adding warm colors, textures, soft fabrics, and clean lines into your home can create a blend of magic.
Introduce organic accessories or irregular and slightly imperfect items to add charm and personality. A modern set of lighting fixtures paired with beamed ceilings will definitely create that perfect blend of rustic yet fancy.
Contemporary, tonal artwork is also a great way to elevate the more traditional farmhouse style to something a little more modern.
Understand Restraint
Decorating in modern farmhouse style can be liberating because of the endless design possibilities. There are so many beautiful products available out there to buy that would seem to fit this style perfectly … but this is also why it's so easy to go overboard.
I've seen plenty of regrettable, over-the-top farmhouse design mishaps, and I obviously don't want that to happen to you! Although it seems easier said than done, try not to get too carried away. Exercise restraint always, and carefully consider each purchase before introducing something new into a room.
How to Incorporate Modern Farmhouse Into Your Home
So, you've decided to incorporate modern farmhouse style into your living space. And now we know that the key here is to create a combined atmosphere of traditional and modern comfort. Cozy, yet refined.
Here are a few tips to remember if you want to successfully add the modern farmhouse style into your home:
Go for neutral paint colors. Avoid hues that are garish or too bright, or overusing really dark colors (except black matte, which makes an exceptional contrast with light colors). You don't want to paint your entire space black, though. (scroll up for great farmhouse paint suggestions)
Paint your window frames black. A bright white interior with black window frames can really pop and look amazing.
Add architectural interest. Most modern farmhouses have walls with different textures and dimensions. So, see if you can find a way to add shiplap, beadboard, planked walls or beams in your home. If your home is lacking character, this is one of the best ways to remedy that. Keep in mind that it's entirely possible to DIY these architectural elements as well, which helps keep costs low.
Mix new and old elements. I love mixing vintage accessories with new items. Even small items can make a huge difference in terms of indoor decor, when done right. Sometimes all you need is one single vintage element in a room to really make it sing.
Consider your lighting fixtures. Industrial style lighting fixtures made from modern metals or steel can really help bring that farmhouse look together. Even an apparently small change like changing a lighting fixture can transform the ambiance in your room in a BIG way.
Modern Farmhouse Interior Design Ideas to Avoid
The right features and elements can epitomize a modern farmhouse style effectively. However, if you are not careful, it can easily give off a bit too much of an arts-and-crafts vibe (well, if we're being honest, more "crafts" and less "art").
To prevent that from happening, here are some modern farmhouse decor ideas to avoid.
Too much distressed furniture. A single good piece of salvaged furniture can be a beautiful element in your modern farmhouse room. But there is also a point where it can be too much. Don't use any overly distressed pieces, and definitely stay away from anything that is even remotely "shabby chic". Make sure that if you do introduce any distressed elements, they are well made and don't look like a failed upcycle project!
Prop additions. Adding stylish country elements doesn't mean needlessly incorporating props like bicycles and vintage signage – they would probably look better at your local pub. Remember that all elements should be sophisticated and purposeful. Try not to use anything too literally "farmhouse".
One sliding barn door is fine, but more than one is just unnecessary. Don't go overboard! Too much of a good thing can ruin the original design intent.
Mason jars. Using mason jars for what they are actually meant to be used for is ok: ie storing consumables (ideally shut away in a kitchen cupboard). But I would steer very clear from incorporating mason jars into your decor in any way, shape of form, if you want to keep things looking chic.
Moral of the story: when decorating your modern farmhouse, always opt for a simple, more minimalistic route. Choose elements that represent warmth and comfort, but don't overdo it. Is it super ornate? Pass on that for this look.
Best Places to Shop for Modern Farmhouse Decor
The number one source for modern farmhouse is without a doubt Pottery Barn (the name is kind of a giveaway, lol). The bad news is that PB is on the pricey side. However the GOOD news is that you can often find much more affordable lookalike versions of their pieces elsewhere – you just need to know what you want and keep an eye out.
Pinterest is great for inspiration, but it can be a rabbit hole and become really time consuming; if you don't have time for Pinterest, I definitely suggest referencing Pottery Barn's website and inspo section if you're looking for some modern farmhouse inspiration! Annoyingly, it's not possible to link to that section on their website, so here's screengrab of where you need to go!
Here is a list of the best places to shop for modern farmhouse decor online.
---
I really hope you found this modern farmhouse guide helpful!! And if you're interested in other home decor styles, be sure to check this post which has links to my other in depth guides! 🙂