Boho Home Decor: 11 Tips That Show You How To Pull It Off
I was not paid to write this post, however, it may contain affiliate links. If you make a purchase through one of my links, I may make a small profit at no expense to you. For further information, please view my policies.
If you've noticed the bohemian home trend and are wondering how to get the look in your own home, then this guide full of boho decor tips is really going to help you out!
While I can definitely appreciate the beauty of minimalist interior design, or clean Scandinavian rooms awash with bright whites and high contrasts, boho rooms just feel more approachable to me.
I'm drawn to the cozy atmospheres of boho interiors, the layered eclecticism and the lived-in feel.
It's definitely up there as one of my favorite interior decorating styles!
What is boho style decor?
What boho decor is NOT:
❌ sterile
❌ perfection
❌ matching decor all over
❌ minimalist
❌ no color
What boho decor IS:
✔️ relaxed
✔️ warm
✔️ comfortable
✔️ eclectic
✔️ lived in
✔️ colorful
Watch the video!

How do you style boho?
There a couple of ways you can approach this eclectic look:
You can go ALL IN, by mixing every pattern, color and texture you can think of. No holding back. Awesome! 🙌
You can be more subtle, by just adding a few eclectic touches to your room – think of it more as a nod to bohemianism rather than the full meal deal.
With the right attention to details and the colors you choose, boho can look super chic.
Often, rooms with a muted or neutral base palette with a few wild patterns are absolutely stunning and look incredibly chic!
Whichever route you choose to take, boho interiors are perfect for achieving that cozy and inviting feeling.
If you look at bohemian interior design inspiration photos, the one element they all have in common is that they all look inviting.
How can you add the boho-chic vibe to your home?
(Pssst … if you're looking for boho DORM decor tips, then you may want to check this post!)
Here are 11 boho decorating ideas to get you going on your bohemian mission!
1. A VARIETY OF TEXTURES
One thing the boho home never lacks is texture.
Adding texture to your room can be achieved in so many ways!
Think:
baskets
planters made of different kinds of materials
macrame wall hangings
natural fiber rugs
colorful Persian or Turkish rugs
wood furniture
upholstery
even artwork and stacks of books are textural!
Hang a tapestry, layer throws over your furniture, get some crazy pillows and pile them on your sofa.
In bohemianism, the saying goes "more is more", so add a bunch of stuff you love!
Start by bringing a variety of several items into the area you are decorating. Move them around, play around with different shapes and materials until it feels right.
If it's too much you can always pare it back!
Maximalism is a big trend right now, but if a maximalist space isn't your cup of tea, you can also incorporate the boho style into a more minimalist setting.
Holly from Decor8 strikes the boho / minimal balance perfectly.
The walls and base furnishings are clean white and gray, but notice how she uses woven materials, rugs, a little floor pillow and natural elements like wood and flowers. Brilliant!
The photo below is from Mallory at Reserve Home.

Reserve Home has an Etsy shop that sells vintage rugs, poufs and pillows like the one pictured.

She also sells shoes, but I don't need anymore of those. 😅
2. LOW-LEVEL SEATING
The boho philosophy is all about kicking back, chilling out and relaxing.
Floor pillows, leather poufs, soft ottomans and bean bag chairs are all great low-level seating options to have, because they invite people to sit down and stay awhile.
You can find gorgeous leather poufs that come straight from Morocco from this Etsy seller. They are only about $50 a pop.
---
If you're looking for floor pillows similar to the ones pictured in the photo below, try this Etsy store. Among other Moroccan decor items, they sell hundreds of Moroccan ottoman floor pillows much like the ones in the photo below, in any variation you could wish for.
Don't be put off by their sort of … weird … product photos. Bypass the reading women draped over the pillows and click into the listings – you'll be able to get a better look at each product. Have faith and click through to take a closer look, you won't be disappointed 🙂
*Update July 2020: the reading ladies in the product photos are gone! I'm kinda sad, but it was a change that was for the best, I feel 😂
3. DON'T USE (TOO MUCH) BLACK
If you're after chic bohemian decor, then try to stay away from large, black pieces of furniture or big pieces of furniture in super dark woods.
Stick with light, bright woods.
Dark woods are pretty heavy, whereas light bleached woods provide airiness and a clean backdrop for the colors, patterns and textures that you'll be adding to your room.
If you take this approach, you should still try to remember to add one or two darker elements to anchor your room.
4. PLANTS, PLANTS, PLANTS!
The more the better! I have yet to see a photo of a proclaimed boho room that doesn't have at least 3 plants!
Plants just give that effortless "jungley" natural vibe, and they are amazing!
I can't recommend filling your home with living plants enough.
Also, don't forget hanging plants and vining plants (I wrote a whole post about them)! They can help add a ton of visual interest to areas of your room that feel empty.
And here is a link to all my favorite low light plants. Check those out if you kill plants a lot, or are just starting out. They're all easy for beginners!
And of course, it gives you an opportunity to add gorgeous and funky planters into your space, which is always a plus (here are some cheap planters that I love from Amazon).
Cacti are especially popular in the jungle boho decor trend, so if you have access to some prickly friends, definitely grab some!
Seriously people, plants = good vibes.
5. A GOOD MIX OF DIFFERENT LIGHT SOURCES
String lights, lanterns, funky chandeliers, candles. Use them all!
I always go on and on about the importance of lighting, in any decor style, and thinking about your lighting when you're creating a boho space is no exception.
You can mix and match whatever types of light sources please you, but I find what works best for the boho look are natural fibre pendants.
I have found some great examples that I love below.
6. LAYER RUGS
Layering rugs gives you an extra opportunity to mix patterns and colors.
It also adds even MORE texture to your room!
Try layering a brightly patterned vintage rug over a natural fiber jute rug.
Or layer rugs that live within the same color family.
7. PATTERNS EVERYWHERE
Similar to adding a lot of texture, patterns are key in boho decor.
If you're feeling lost, try to pick an overarching color palette and work within that. For example, violet and gold, or rust and navy, or scarlet and mandarin.
Remember to also leave space for your eye to rest, otherwise it can become a visual overload.
So, if you have a large colorful rug, try keeping the base furnishing fairly pared back with just a pop of accent color that complements the rug's big color statement.
The same thing would apply to hanging a tapestry that is a big burst of colors over your sofa. Keep the sofa neutral and incorporate the same colors of the tapestry into the throw pillows.
TIP → Mixing patterns with solid colors will help balance things out visually and will help establish focal points where you want them.
Some examples of popular boho patterns you can search for are Ikat, Kilim, Indian, Moroccan, Turkish, Persian and Mexican, to name a few.
Try using these terms when you're shopping and see what you find!
For example, look at the GORGEOUSNESS of all these throw pillows when I searched for "kilim pillows" on Amazon!
Another great way to add pattern is by stenciling a feature wall.
8. ADD SOME VINTAGE OR HANDMADE
I am a long-time vintage lover and I think it's possible to add a vintage piece to almost any decor style.
But in this case of boho decor, some second-hand furniture is really a MUST for the true boho look!
TIP → When you're thrift store shopping, look for pieces made out of:
wood
wicker
natural materials
Also keep an eye out for warm metallic accent pieces like:
vintage brass planters (perfect for those succulents!)
candlestick holders
magazine racks
Whether it's an end table, an accent chair or just a vintage tray, adding something old will infuse character into your room.
If your thrifted find looks TOO rough around the edges, try brightening it up with some colorful paint!
Which leads me to the next point…
9. SOMETHING PAINTED IN A BRIGHT COLOR
This can be a turquoise feature wall, a chair painted bright red in the corner, a gorgeous cabinet painted a lush tropical green – you name it!
If the item is a little rough around the edges, even better!
The bohemian look is far from sterile and perfect, in fact it thrives on those little imperfections which can make people feel more relaxed and at ease within a space.
Ideally you'd find a sweet vintage piece and give it a fun coat of paint in a color that you love. But you can also paint laminated furniture, if that's what you have on hand!
10. HOME FRAGRANCE
Don't underestimate the impact that scent can have in your home!
Much like when you wear perfume, having a home that smells great can really leave a lasting impression on people. Trust me, I'm a perfume addict!
It's difficult to recommend any one particular scent, since perfume is so incredibly subjective.
But there are a lot of ways you can incorporate wonderful smells into your home, whether it's via a good-ol' scented candle, essential oils, incense, or even just simmering some delicious ingredients on your stovetop.
The choices are endless, so have fun with scents and find what suits your home's personality!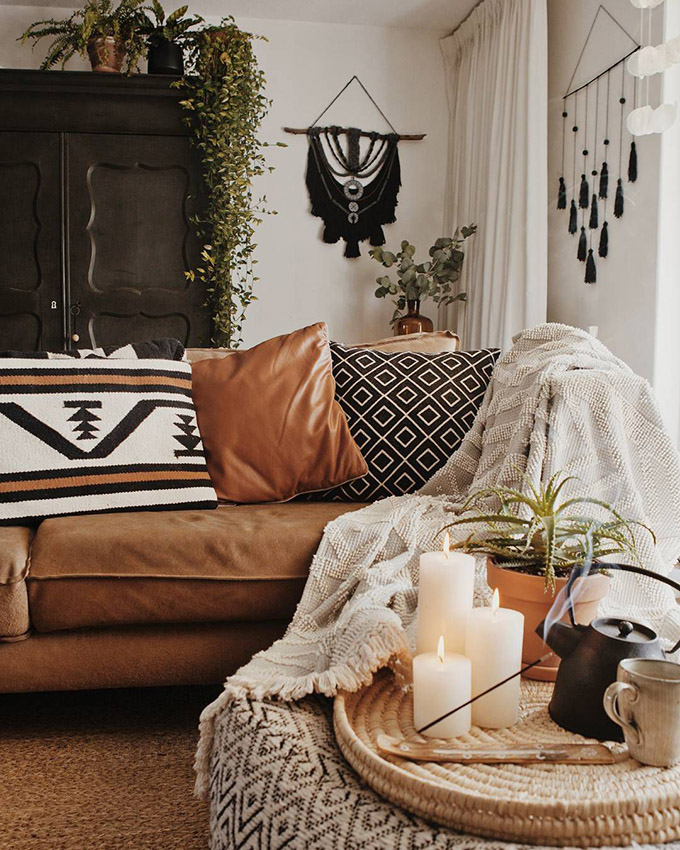 11. STUFF YOU LOVE
I can't stress this enough, for any style! I really believe in decorating your home with things you truly love. This philosophy rings true with boho decor as well.
Items that somehow tell a story, or special things you picked up on your travels will bring you joy on a daily basis, and will be a reminder of your life journey.
Kind of like looking at a photo album, except that you live inside it!
I don't really believe in buying decor items just for the sake of having them as "conversation" pieces. I hear that a lot when companies try to sell unusual items. If you decorate with things you love, your home and the things in it will inevitably become conversation pieces anyways. And that's great! You will have a lot to say, because they are a part of your story!
Creating a layered, eclectic boho space will take time!
You will try things out, switch them around and eventually find a balance.
That's ok because there is no rush!
The boho look is not typically a one-stop-shop look, however you can really find a huge array of great products nowadays to help get you there quicker – I've provided some of my favorite boho shopping resources below.
Your boho living space should feel right to you. If it feels right to you it will feel that way for others too.
Boho shopping tips and resources
Here are some great shopping sources for affordable boho-inspired decor:
urban outfitters
worldmarket
the-citizenry
zara home
h&m home
target home
etsy
amazon
ikea
Some boho terms to try using when you're searching on big sites like Amazon and eBay:
Ikat
Kilim
Indian
Moroccan
Turkish
Persian
Oriental
Mexican
Oushak
Tribal
Southwestern
And here are some boho-inspired Etsy shops that I adore!
The Bohemian Lifestyle – boho pillows, rugs and poufs
Boho Brick House – vintage bohemian home decor
Petit Bohemes – handmade boho items
Boho Tree – glorious bohemian haberdashery; if you like to sew and DIY, you MUST check this out!
Boho Pillow – the name says it all
Bohome Decors – beautiful boho macrame wall hangings, really popular for gifts
Boho Linen – boho towels
Prints2Paper – beautiful minimal art with a boho vibe, affordable (printable art only)
Above is only a quick list of some of my favorite places to shop boho online – I did a much more in-depth post about where to shop boho if you're on a budget so be sure to have a look at that article!
---
Reading tip: if you are looking for some inspirational boho reading, then check out Justina Blakeney's book, "The New Bohemians Handbook". It's an in-depth guide that shows the reader how to bring good vibes and style to living spaces. There are hundreds of ideas and gorgeous images, so you'll be sure to feel inspired and find something you like.
---
And if you're looking to decorate your bedroom boho style, then you should hop on over to this post where I break down all the elements needed to create the perfect boho chic bedroom.